Admission Brochure 2014
University of Delhi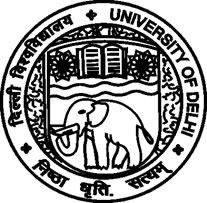 Admission Brochure
Four Year Undergraduate Programme
2014-15
A new undergraduate programme with multiple exit options has been started by University of Delhi from the academic year 2013-14. The following exit options are available to all the students who get admitted to the under graduate programme of University of Delhi, after completion of:
Two years - Diploma
Three years - Bachelor Degree
Four years - Bachelor with Honours / B. Tech.
University of Delhi
The University of Delhi was established in 1922 as a unitary, teaching and residential university by an act of the Central Legislative Assembly. The University which began life with three colleges and 750 students has now become India's largest institution of higher learning and among the largest in the world. Presently the university has 16 faculties and 86 departments spread over North and South campuses. It has 77 affiliated colleges and a few other recognized institutes. It has around 1,50,000 regular students studying in undergraduate courses and more than 3,50,000 students in non-formal stream. The President of India is the Visitor, the Vice President is the Chancellor and the Chief Justice of India is the Pro- Chancellor of the University.
The University of Delhi is a premier university of the country and is known for its high standards in teaching and research. It attracts eminent scholars to its faculty and has a rich academic tradition which has for decades attracted talented students who have made many important contributions to society. Students come here from different parts of the country and it also caters to the needs of many foreign students. Currently, students from over 67 different countries are studying in this university. University of Delhi is conscious about its responsibility to the Nation at large as the students of today will shape its future of the country. The university is dedicated to help its students in career and character building with a sense of pride.
Recently, University of Delhi has come up with new and renovated infrastructural facilities including additional hostels, sports stadia, Wi - Fi networking, upgraded Class rooms, teaching laboratories and e-libraries. While various faculties, departments and university affiliated colleges are spread across the entire state, a computer network links them so that students and faculty can collaborate and draw upon the available resources of the university in an institutional way. The research facilities in different departments are of international standards. The university has signed many MOUs with different countries under International Exchange Programs and Treaties.
University celebrates its Foundation Day on May 1 of each year. The University has started a program in which students of different colleges are sent on study tours periodically through the chartered train " Gyanodaya Express" across different important destinations in the country. The aim of this study tour is to empower the students with various facets of life including preparing reports after visiting these places. The University has started Innovation projects from different colleges involving multi-disciplinary subjects involving teachers and students of undergraduate courses to focus mainly on problems related to society and prepare project reports for further research/implementation. The University organizes annual cultural festival called Antardhvani, in which students from all colleges and departments are encouraged to participate in cultural events and showcase their talents. NCC parade of cadets (from all wings) from different colleges is held every year during Antardhvani. The University has also set up "Good Practices" award for the colleges which showcase the highlights of their college in this festival. The University has implemented Four year undergraduate program in 2013-14 successfully. One of the salient feature of this programme is availability of online contents, quizzes, video lectures and project reports to supplement the classroom teaching.
Disclaimer
Every care has been taken to verify the authenticity of the contents of this information Bulletin. However, the information contained in relevant Rules, Regulations, Ordinances and Statues of the University will be final. University of Delhi shall not be responsible for any wrong information and the consequences of using such information. For detailed information, applicants are advised to contact individual colleges or office of the Dean Students' welfare, University of Delhi. The data contained in this informaion Bulletin is indicative only and must not be used for legal purposes.
Important: For further updates on information regarding admissions, please see University website
http://www.du.ac.in regularly.
The EOC ensures:
Affirmative actions concerning SC, ST and OBC

A barrier free access to all buildings of Colleges, Departments, Libraries, Hostels and Offices of the University

No discrimination on grounds of disability or minority status


Short term courses for imparting employable skills for the disabled and for raising awareness about disability


Reaching out to like-minded institutes and organisations dealing with similar issues