Welcome to Equal Opportunity Cell.
-
Annual Sports Meet "Uddan"
The Annual Sports Meet 'UDDAN-2014' for students with disabilities organized by Equal Opportunity Cell on 28th February, 2014 & 01st March, 2014 stands postponed due to unpredictable weather conditions and forecasts. The new dates for the same will be 20th March, 2014 & 21st March, 2014. Inconvenience if any is regretted.
- Dates for registration for Annual Sports Meet "Uddan" extended up to 12th February, 2014. No entries shall be entertained beyond this date
- Short Term Course (February, 2014 - June, 2014) at Equal Opportunity Cell -
Details
,
Application Form
- International Educational Excellence Programme to Seoul, Korea for Students with disabilities - Hon'ble Vice Chancellor blessing the group with his kind & inspirational words on the eve of departure - January 11, 2014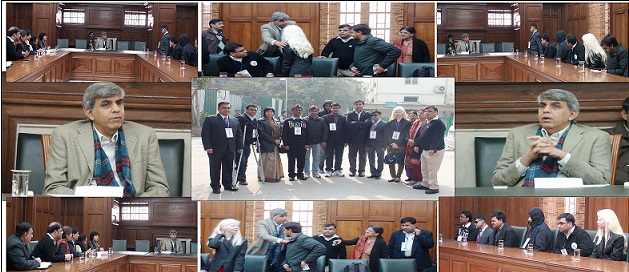 ---
- Glimpse of 205th Birth Anniversary of Louis Braille - January 4, 2014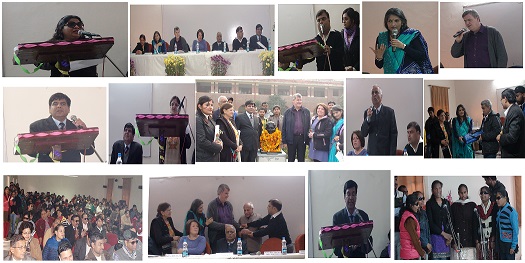 ---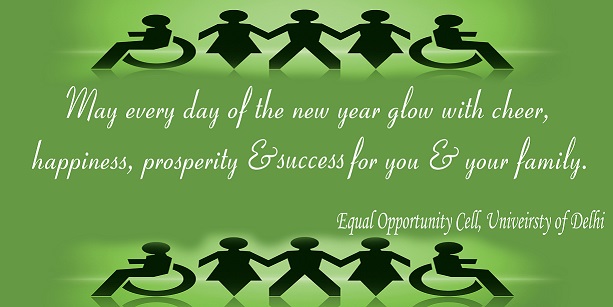 ---
Advertisement for the post of Technician and Reader for Visually Impaired :- Advertisement
Initiatives and measures undertaken by University of Delhi for students with disabilities
---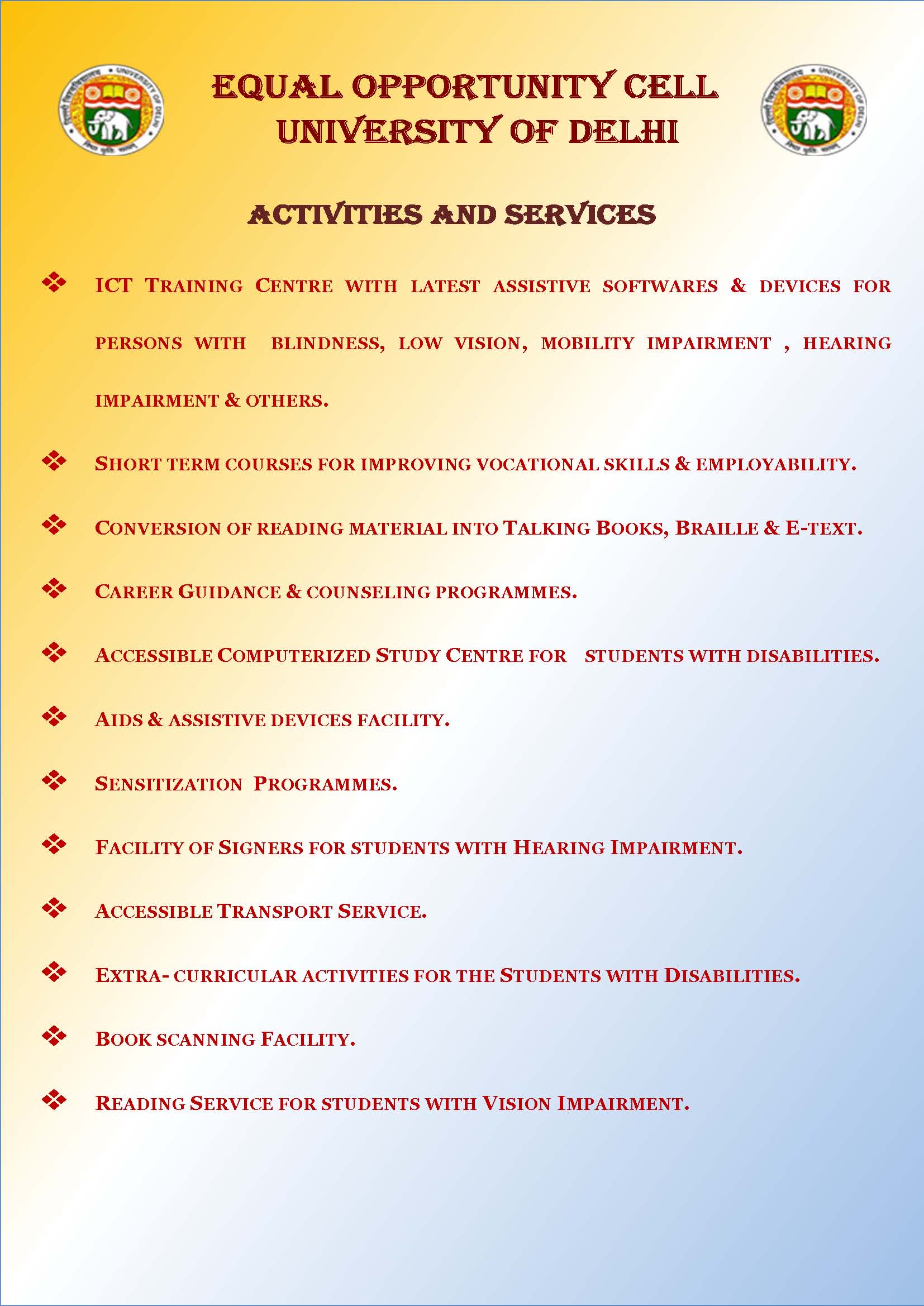 Activities and Services
---
The main problem faced by Persons with Disabilities and those belonging to the marginalized sections of society stem from disabling environment and socio - cultural and economic barriers. Discrimination against any person on the grounds of his/her disability or physical limitations and minority status is a gross violation of universally accepted principles of equality and human rights and even constitutional obligations. Their problems in the field of higher education are a matter of great concern which needs urgent attention.
The Indian Society is singular in terms of the multifarious hues it has absorbed in its fabric. Living within its clinch are numerous groups that are segregated on the basis of language, ethnicity, class, caste, religion etc. This inequitable situation warrants a redemption which is possible through Equal Opportunity measures and policies.
To address these and other urgent issues concerning SC, ST, OBC and PwD, the Equal Opportunity Cell was set up by the University of Delhi on 27th June, 2006 and a policy Draft was released ensuring a barrier free, equitable and accessible space to the PwDs in the field of Higher Education.
---

---
Photographs
---
IBSA Prizes
-
Photographs
Equal Opportunity Cell - Celebrates World Disability Day (on December 3, 2012) by holding a Cricket Match for PwDs.
Gyanodaya Trip -
Photographs
Equal Opportunity Cell University of Delhi conducts a Medical Health Checkup Camp for students with disabilities at their places of stay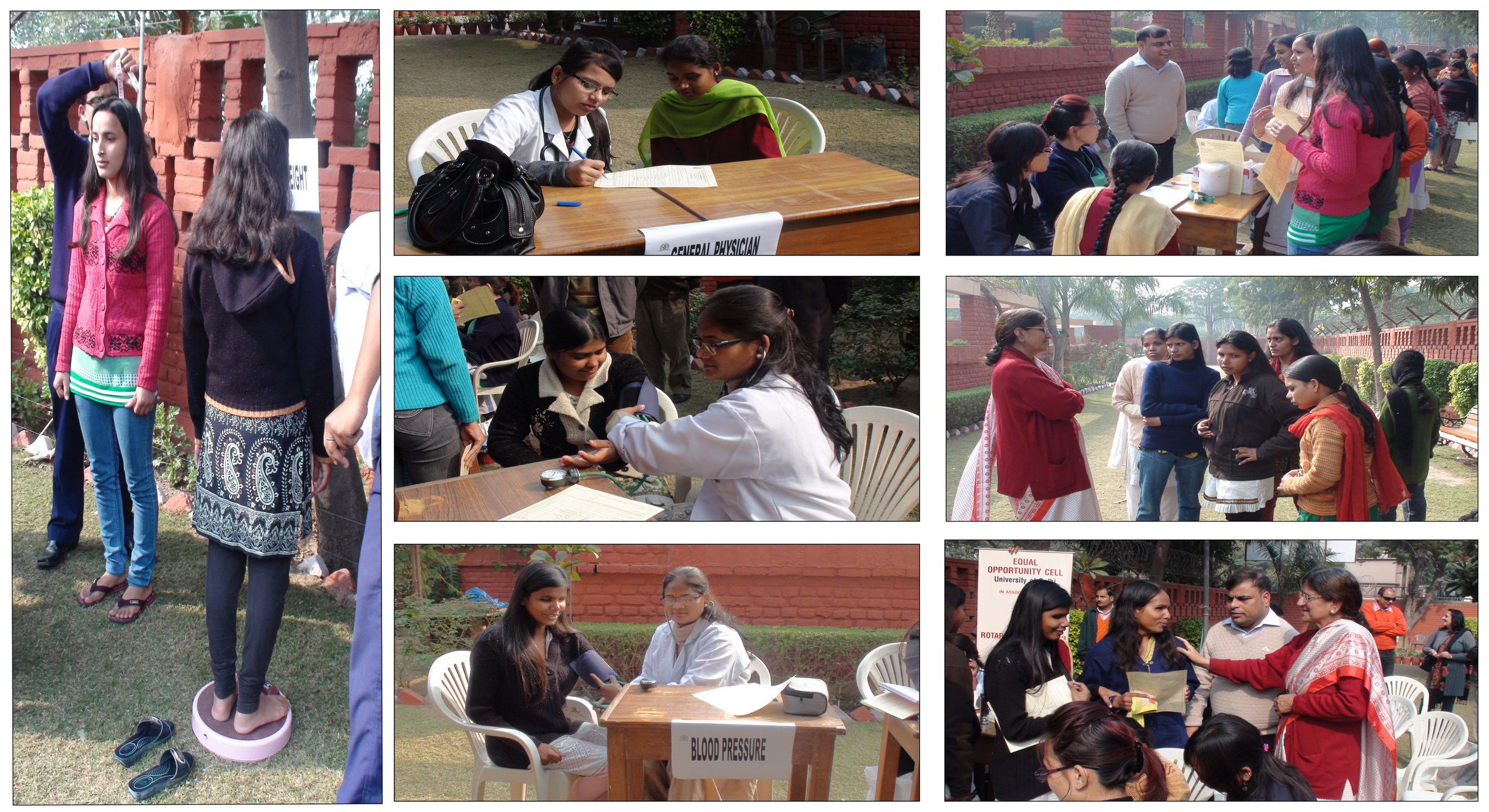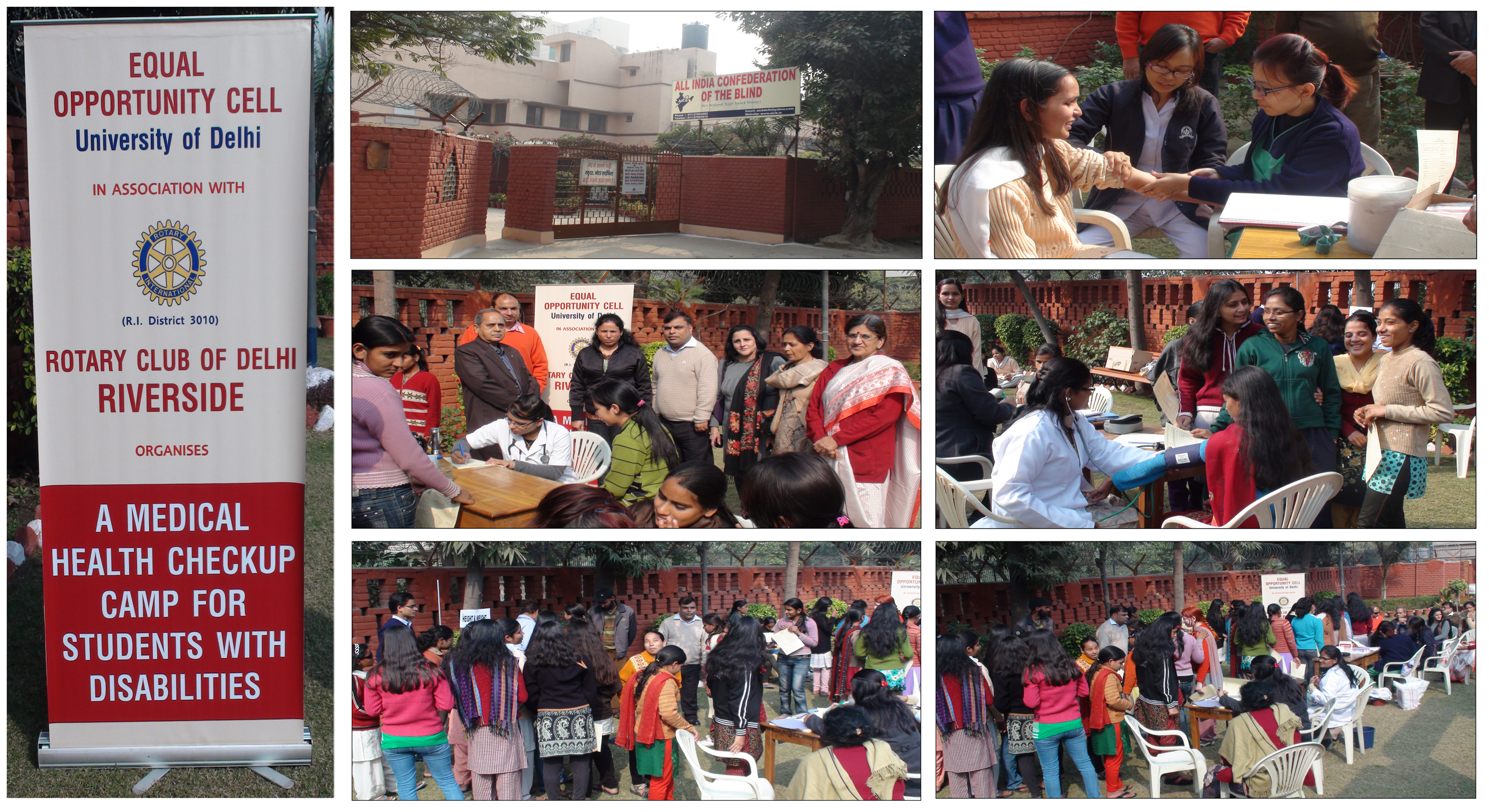 204th birth anniversary of Louis Braille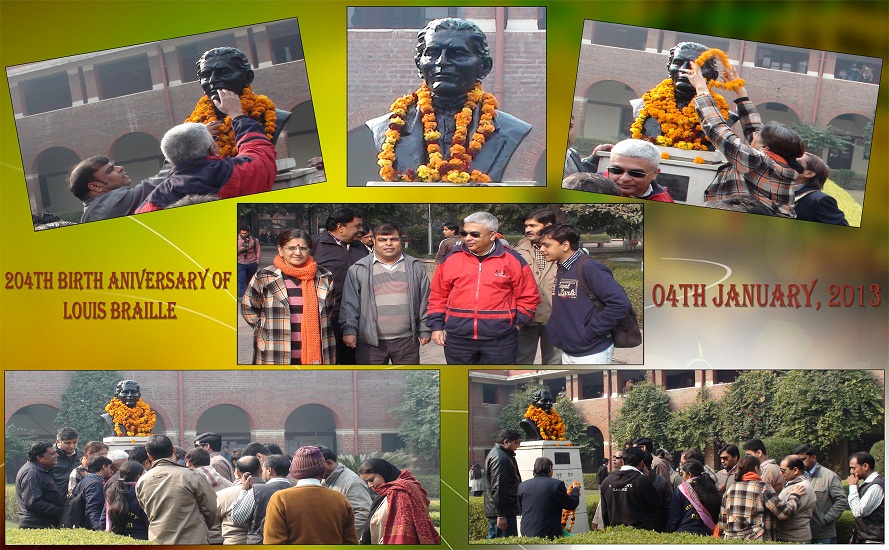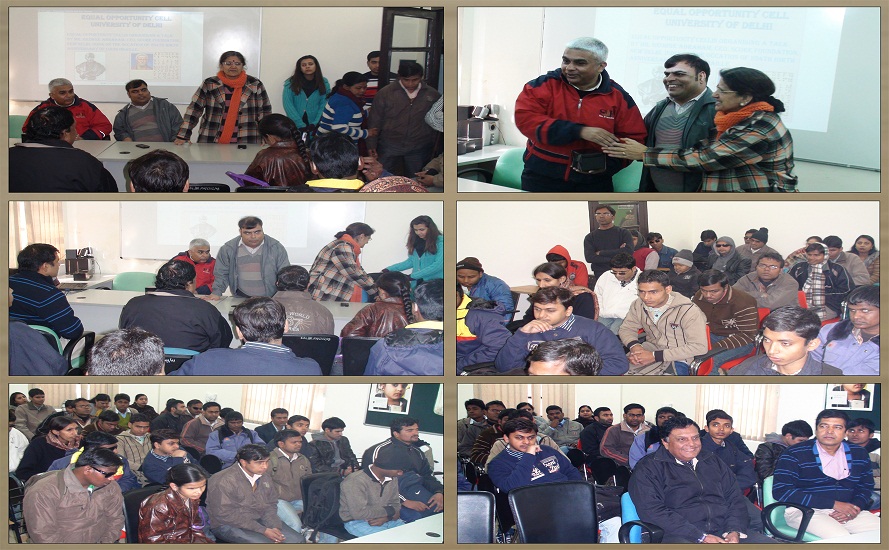 Photographs - Equal Opportunity Cell, University of Delhi distributes wheel-chairs to students with disabilities with the support of Rotary club of Delhi Riverside
---
Notices
---
Facilities for Students with Disabilities during DUSU Election, 2013 -
Letter to Principals
Promoting Educational Excellence with Korea for students with disabilities
Notice
,
Application Form
Workshop on 'Handling Admissions for PWD's - A step towards more informed and sensitised teachers'
Advertisement for various positions in Equal Opportunity Cell
Concession/Waiver of fees in respect of Persons with Physical Disabilities (PWD)
Grant of Special Chance to students beyond the prescribed span period
Concession/Waiver of hostel fees in respect of Persons with Disabilities (PWD)
Examination Writing Policy for Students with Disability
'Accessibility Learning Session' - A step towards more informed educators
Implementation of Guidelines for students with Disabilities
Press Release - additional seats PWD Students
Notice inviting expression of interest for Tablet/Netbook based Solutions
Circular :- CONCESSION / WAIVER OF FEES in respect of Persons with Physical Disabilities (PWD)
Circular :- CONCESSION / WAIVER OF FEES in respect of Persons with Physical Disabilities (PWD) - HOSTELS
Letter to all coordinators of Enabling Unit
---
Admissions 2013
---
Guidelines in respect of Students with Disabilities for conducting FYUP
Accessible Learning
Admission Brochure 2013 - Undergraduate Admissions (to be read through Screen Reader)
Admission Guidelines - Undergraduate Admissions
Circular :- No.Acad.I/082/PWD/2013/146 dated 27 May, 2013 regarding Four Year undergraduate Programme
---
Short Term Courses (Aug, 2013 - Dec, 2013)
---
Notice
Application Form
---